Reporting Student Absence
During last term, we reviewed our attendance policy to make it a more efficient way to report absence from School. Please be advised that there will be a new telephone number to call to report student absence 01788 532831. This is an automated system where you can leave a message which will be picked up by our attendance administrator.
Edulink will still be available to report absence. You can also see your child's attendance. Please go to the app and click on: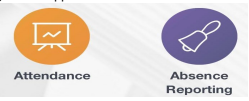 If you call into our main reception line, you will be diverted to the answering service and emails to staff will no longer be actioned.
A friendly reminder that absence can be anything from being off school for the day due to sickness, or an appointment in which your child will be late into school or will have to leave early.
We cannot allow a student to leave school early for an appointment if we have not been notified in advance.